My Second-Grade Happiness Recipe
15 cups of rescepting others
On July 25th I had the pleasure of being on an Awakin Call, hosted by Service Space, an amazing all-volunteer network of wonderful people who give their time to ignite acts of kindness and generosity to spark inner and outer transformation. The topic we agreed on was how to cultivate personal courage...
A few minutes before the call, I had an gut feeling to take a picture off my wall and lean it against my desk on the floor, in case I had a chance to talk about it. That picture is a drawing I did in second grade, when I was 8 years old. It's something my mom set aside for me because she saw something in it that was worth saving for someday.
For years I've had this picture tucked into the same box as my original birth certificate, complete with my inked footprints. I was so tickled to find my drawing again recently when I opened boxes labeled "Favorite Things—Keep!" And then I was excited to find a picture frame on clearance sale, 8 1/2 by 11 inches, just right for this ancient, faded manilla paper from 1973.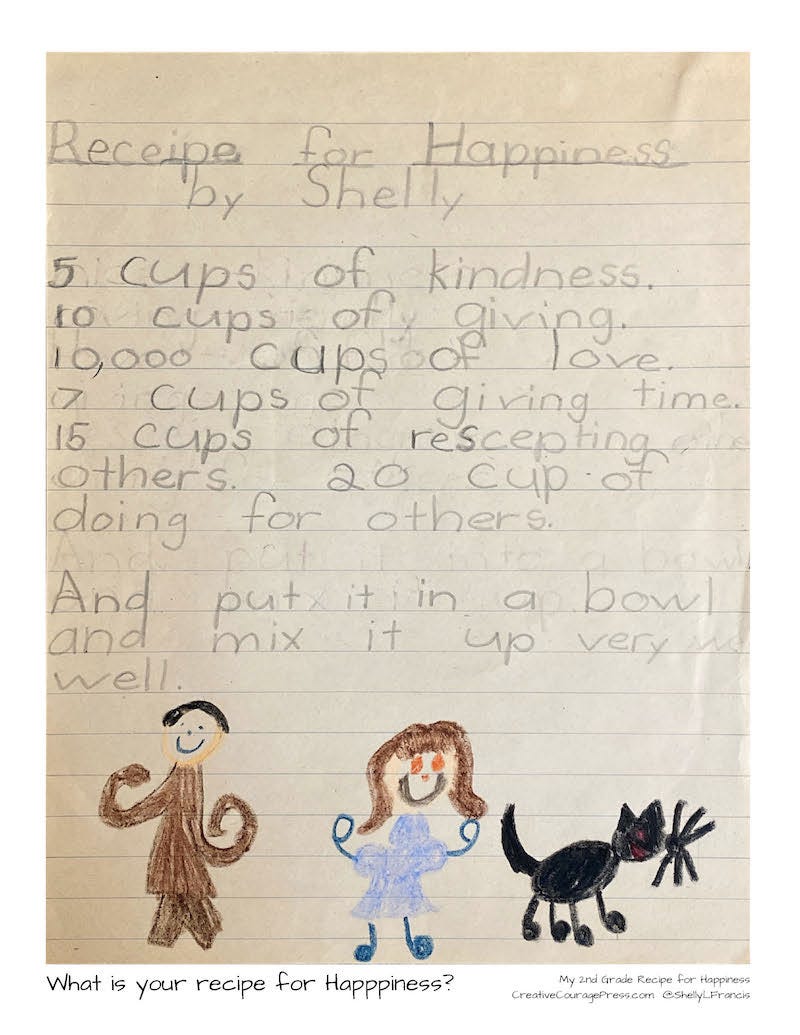 Yep, this what it says, with original spelling intact:
Receipe for Happiness
by Shelly

5 cups of kindness.
10 cups of giving.
10,000 cups of love.
7 cups of giving time.
15 cups of rescepting
others. 20 cup of
doing for others.

And put it in a bowl
and mix it up very
well.
You can see if you look closely that I had erased almost the whole thing and re-did it. I have no idea whether my 8-year old self was a perfectionist/editor as I am now, or if I was only allowed one piece of paper. Or maybe I'd already done the illustration and wanted to keep it. That's Dad, Mom and our kitty Pepper, by the way.
The other amazing thing about this drawing is the Zen koan my little-kid self has given me to ponder all these years. That's the word "rescepting" ... a word my teacher did not make me erase and spell differently. She did not take a red pen to my page. I wish I knew if she asked me to explain the word. And if she did, I wonder what I said.
Did I believe I had spelled "respecting" or did I know this new word, rescepting? I've checked many dictionaries to see how it might arise in a child's mind that to "rescept" is a soul-based way of receiving, reception, creating conditions to receive others and their uniqueness into my happy space. That is what I love to do most!
I love my teacher, Mrs. Proctor, for her gentle wisdom to allow my Recipe for Happiness to be as I intended. I love my mom (who was a kindergarten teacher) for keeping it all those years.
And amazingly, Mom also kept (and labeled) the portrait of Mrs. Proctor that I drew that same year, or maybe even that same day or week.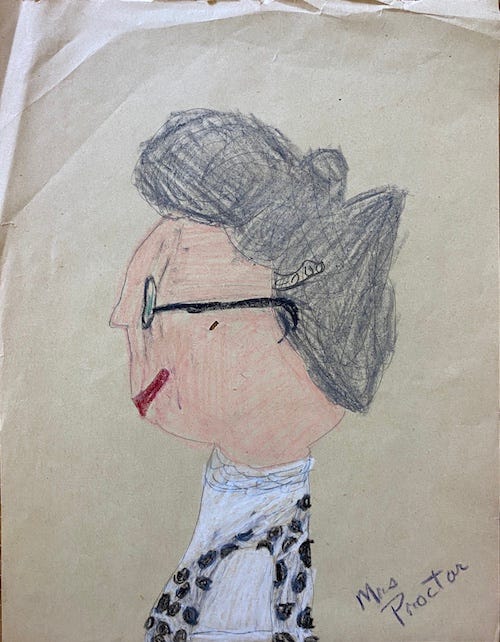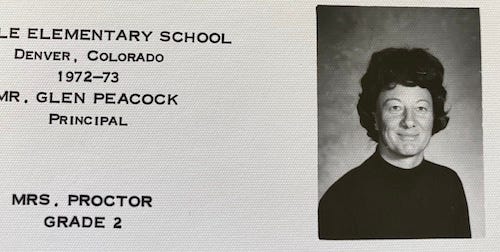 Last weekend, looking for a document, I discovered an envelope of old photos, both predating me and me from 6 months through high school. I found my little face, the shy smile of the 8-year old me who wrote that recipe and coined a new ancient word.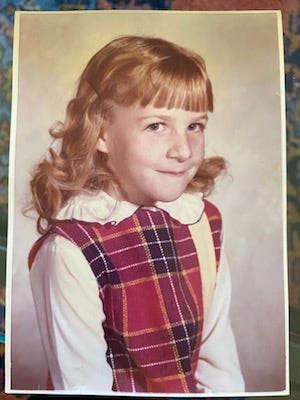 Think of your own childhood smile as we ask you:
What is your recipe for happiness?

What clues did your inner kid leave for you to find in your future to remind you of your deepest heart-felt values?

What do you think it means to mix up 15 cups of rescepting others? What would you add?

What kind of courage do you need to revisit your earlier wisdom and apply it today?
You can listen to or watch my Awakin Call, including this story and several about why I love elephants, as well as writing The Courage Way and now starting up Creative Courage Press. It was such a fun call that I truly enjoyed! Thank you to Service Space, Preeta Bansal, Andy Smallman and Aryae Coopersmith, for rescepting me!
P.S. Mom might have kept that portrait of Mrs. Proctor because on the back was a drawing even more prized, of my dad! His hairdo is how I knew for sure who was in crayon with the lady and cat.