Self-Care Takes Courage
And gives courage too
Caregivers of all kinds are being asked to set their needs aside to care for those in need. "But this is what I signed up to do," they say. It's a phrase echoed often these COVID days. 
Two women physicians, Arghavan Salles, MD, PhD and Jessica Gold, MD, MS, wrote in this article that to call health care workers heroes can work against their need to also ensure they care for themselves. Instead they suck up their emotions and keep going.
How can I give what I don't have? How can I be both hero AND human? 
"Will any doctors be left?" That's a question Mukta Panda asked in her opening paragraphs of her new book, Resilient Threads: Weaving Joy and Meaning into Well-Being. She wrote those words into her manuscript, from her heart, long before COVID showed up. She was talking about the current epidemic rates of stress, burnout, depression and suicide. Perhaps we should have been calling that a pandemic as well, except that you can't point the finger to a single virus ("profit-motive" might be valid as one key ingredient). 
Now I wonder, will we push our physicians, nurses and all health care workers so hard that none are left? They are trained to push past the point of exhaustion to care for sick people, but also to care for their families and friends and community.  
It takes courage to speak up and demand PPE.
It takes courage to walk out as a worker 
to demand protection, hazard pay and respect.
It takes courage to invoke Hippocrates
to do no harm and to serve. 

It takes courage to stand up for self-care and well-being.
Self-care takes courage
And gives courage too.
And courage takes trust. 
When we stand up and speak out, when we refuse to do harm to ourselves, when we hold others accountable to their responsibilities, we are caring for more than our bodies. We are caring for our truest self and also for our community. Self-care gives courage, too, because anyone reclaiming the need for self-care becomes an exemplar, which empowers others to do the same.
It takes trust to know that if you step aside for a moment or more of respite, that someone else with enough competence and commitment will move to the frontlines for awhile. Be like the geese.  
"Self-care is never a selfish act—it is simply good stewardship of the only gift I have, the gift I was put on earth to offer to others. Anytime we can listen to true self, and give it the care it requires, we do so not only for ourselves, but for the many others whose lives we touch."
—Parker Palmer, Let Your Life Speak
Does the Hippocratic oath need revoked if it means do and die?  Amend it instead, with this new Oath to Self-Care and Well-Being, written by a team of physicians on behalf of the Collaborative for Healing and Renewal in Medicine (CHARM). The oath calls for a system-wide partnership, the onus being on the system first and foremost. But remember that systems are led by human beings who we hope are committed to the common good. This oath calls the soul back into the system, calls to the deepest values of the medical profession to resurface. Soul-deep self-care requires a community of people who care, to support the caregivers our communities relies on.
The Oath to Self-Care and Well-Being is meant to serve more than physicians, nurses, clinicians and caregivers. Regardless of our day-job, we are all caregiving for someone right now, including other people, ourselves, our pets, and our planet. 
Please pass this along. Print out this PDF of the Oath to Self-Care and Well-Being and soak in the words. As its authors intended, rewrite if you wish. Have a party online (and someday back at work) and add your own stanzas. "Poet-ize" this oath to reflect your own words and values.  
I share this piece because I am passionate about courage of all kinds. And caregivers of all kinds. I am proud of Mukta Panda, MD, author of Resilient Threads, the first book for Creative Courage Press. I am proud and worried about my son, Wil, close to finishing nursing school, and the sons and daughters of friends becoming nurses and doctors, and those I know who are caring for COVID patients—these are my specific personal connections. I write this piece because it was hard to survive cancer as a caregiver 20+ years ago, but I did because of the families, friends, and physicians who made survival feasible and for whom I hold the highest regard in my heart. 
Caregiver burnout is real. We can't let this fire get out of control!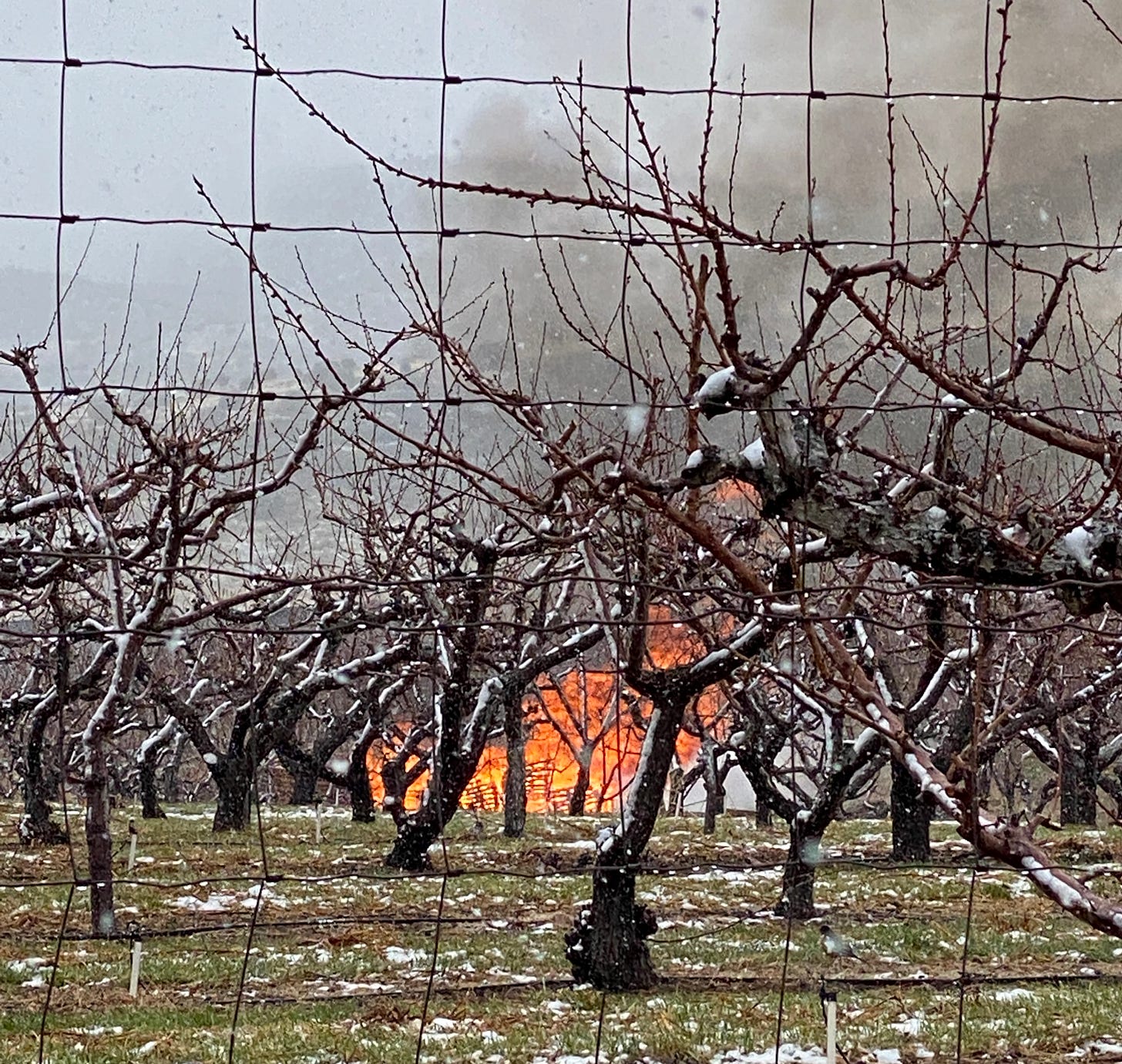 It's going to take courage (in community) to combat the complexity. To embrace complexity and each other with trust and not fear. 
Photo sidenote: These peach trees are attempting to properly social-distance. It was so strange to see a fire of pruned branches burning with snowflakes falling yesterday.