Sitting with the Heavy Furniture of Structural Racism
and the Weight of My Whiteness
What the world needs now is love sweet love, no not just for some but for everyone. Lord we don't need another mountain, there are mountains and hillsides enough to climb...
Thank you for that song - out of the blue. LOVE!
That was my wake-up song and journal entry on May 26, the morning after George Floyd's murder. I didn't realize that song was in my head the morning after his death until I was re-reading my journals specifically looking for the date. Not until June 3rd did I journal about being more fully aware, when I wrote "#BlackLivesMatter is weighing heavy on my heart this morning."
I went looking for the date of my awareness because I've been wanting to respond with a blog, to find my authentic voice on the topic, and it's been much harder than I expected. I wondered if I even should write anything. It's taken a retracing of my timeline—of the past month and my lifetime—to seek a deeper understanding of how I am situated as a 55-year-old white woman in relation to racism and the sea of structural white supremacy in which I've been swimming my whole life. It's not the first time I've done so, but feels urgent now to "get it right and make it stick." I'm sharing my dawning awarenesses here as a small contribution to the collective conversation. It's a conversation I trust has not slowed but is finding stamina for the long-haul. (Stamina requires fortitude, which is another word for courage.)
Dionne Warwick first sang "What the World Needs Now" in 1966, when I was one year old.
Wikipedia says
the song was released three months after I was born, topping at #7 July 1965.
As May 2020 came to a close, I was more focused on my personal life than on national news. I was packing for a move to a new apartment all weekend, going through boxes that had been taped shut for almost two years, or more. I'd been visiting local stores (in my mask) over the weekend, looking at dressers and couches and bookshelves, and gauging how heavy they were, whether I'd be able to get them into my car and then up 14 stairs by myself. Or if I could at least load them into my car to have the movers move them on Tuesday. At a thrift store going out of business (due to COVID-19), I only bought two mirrors (one heavy) to help reflect some light into my north-facing apartment.
On the morning of Tuesday, June 2, I woke up thinking about the uprisings over George Floyd and racism, and what I had learned as I wrote The Courage Way, especially chapter 11, "The Courage to Connect and Trust in Each Other." (I always think of chapter 11 as "The Courage to Connect Across Lines of Difference, my original plan for that chapter name. Other people think I'm referring to chapter 11 bankruptcy. How bankrupt is this country when it comes to racism!?!)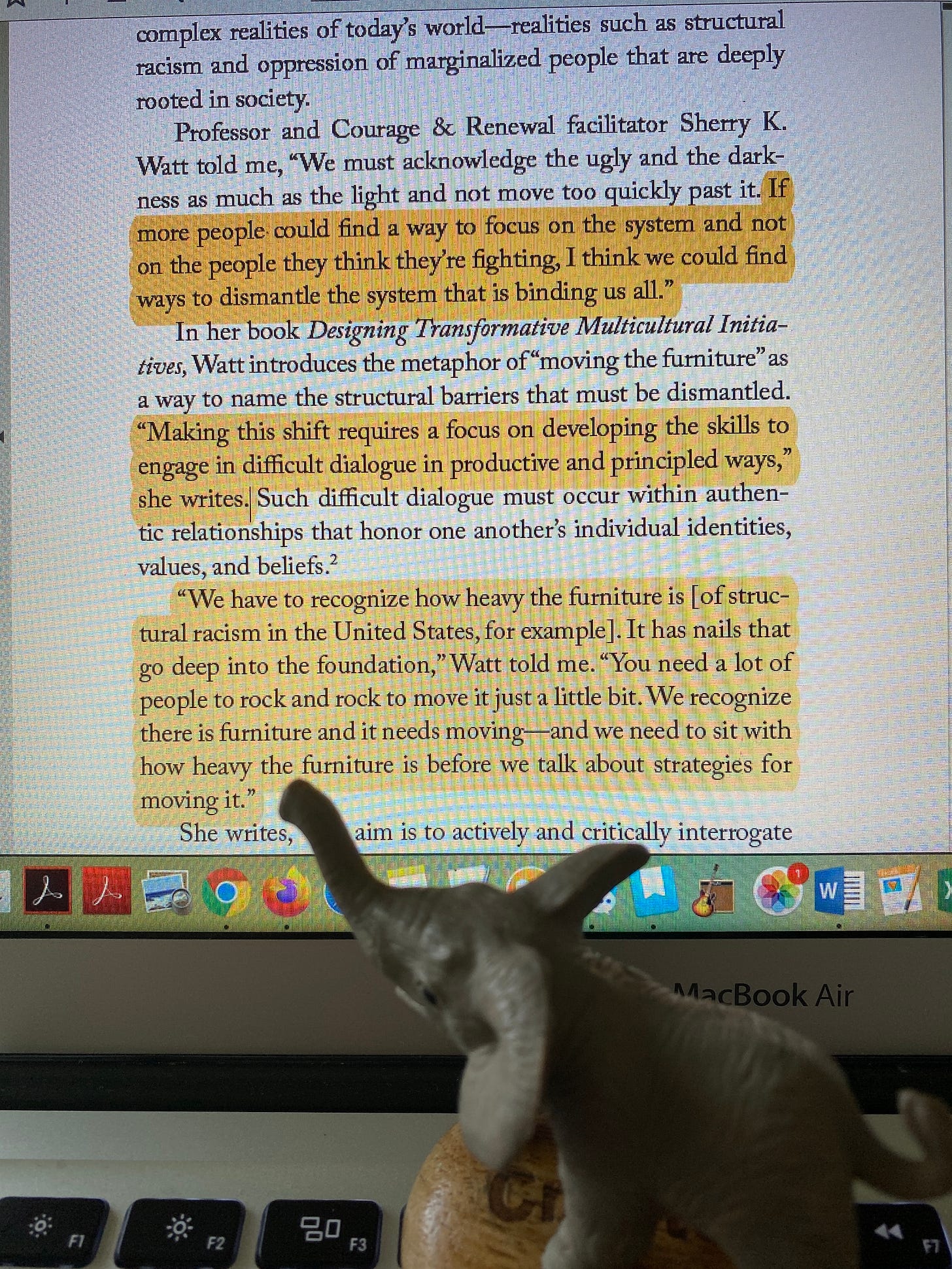 From page 170 of The Courage Way:
Professor and Courage & Renewal facilitator [and now founder of The Being Institute] Sherry K. Watt told me, "We must acknowledge the ugly and the darkness as much as the light and not move too quickly past it. If more people could find a way to focus on the system and not on the people they think they're fighting, I think we could find ways to dismantle the system that is binding us all."

In her book Designing Transformative Multicultural Initiatives, Watt introduces the metaphor of "moving the furniture" as a way to name the structural barriers that must be dismantled. "Making this shift requires a focus on developing the skills to engage in difficult dialogue in productive and principled ways," she writes. Such difficult dialogue must occur within authentic relationships that honor one another's individual identities, values, and beliefs.

"We have to recognize how heavy the furniture is [of structural racism in the United States, for example]. It has nails that go deep into the foundation," Watt told me. "You need a lot of people to rock and rock to move it just a little bit. We recognize there is furniture and it needs moving—and we need to sit with how heavy the furniture is before we talk about strategies for moving it."
So on my "Moving Day" I had woken up thinking about George Floyd and the #BlackLivesMatter movement. And how privileged I was to be moving today, having money to hire help to avoid throwing out my and my dad's backs with heavy boxes and furniture. And I was feeling that I should really be sitting with how heavy the furniture is of structural racism. And yet because of my white-skin privilege, I could go on with my day in my bubble, with scant attention to uprisings in cities far away.
The moving truck would be arriving in two hours. A few minutes later I went outside to discover a completely flat rear tire on my car. Luckily my dad was up and he put on the spare as I stood there barely helping (feeling silly for not doing it myself at my age). Then he offered to take it into town to get it fixed. Dad had the tire repaired, for free, because he had bought his own tires at that store. His daughter's tire counted under their flat-tires-fixed-free guarantee.
Fast forward to the apartment complex, the movers were ready to unload the truck and asked if it was okay to unscrew a lock on a wooden gate to access a quicker route to my apartment. The onsite manager rushed to stop them, but then consented when I rushed outside saying "It's me, I'm the troublemaker. We'll definitely put it back exactly how it was."
Soon after, the moving guys were carrying my mattress upstairs and I caught a whiff of skunk, because my roommate's cat and two dachshunds had recently defended the backyard and house from a rogue skunk, right beneath my bedroom window. Even though the mattress had aired out in the back of my dad's pickup over the weekend, I would have to find a way to de-skunkify the fabric further.
That night, and since, I've been sitting with my luck and white privilege to be worried only about a flat (fixed) tire and a smelly (no more) mattress. If my dad and I had Black skin, I don't know that my flat tire would have been fixed for free. If I had Black skin (or had the movers), I don't know that the apartment manager would have let us unscrew a gate for our convenience. If I was Black, I may not have been welcome to rent in my apartment complex at all. If I was Black, I may not have had the opportunities I did earlier in my life to have been a homeowner/mortgage holder. This isn't to question individual people in these scenarios, but to say I didn't have to worry about the color of my skin on that day or any other day of my life. That's my white privilege.
So what if "it stinks" that my mattress got skunked by a skunk that barged into a yard, unannounced, uninvited, in the middle of the night.
I will never have to worry about police harassment and murder due to the color of my skin.

I will never have to worry that my son might be killed for the color of his skin, while jogging, sleeping or being anywhere. Even though Matthew Shepard's murder still haunts this mama's heart, my son and his husband get to be married now because protections for LGBTQ people have become laws since the protests in 1969 and as recently as last month.

I don't even have to worry about how heavy my actual furniture is, because I could afford to spring for hired helpers who treated me with respect.
We've started "close in" with family conversations, kicked off officially when my son shared a graphic in a family group text, inviting us to learn together. The same night my sister shared an article written by Fr. Bryan N. Massingale, author of Racial Justice and the Catholic Church. His words touch me, educate me, and provoke deeper reflection. I share his article as invitation.
Here is one of the paragraphs that stood out to me.
"Yes, we need social reforms. We need equal educational opportunities, changed police practices, equitable access to health care, an end to employment and housing discrimination. But only an invasion of divine love will shatter the small images of God that enable us to live undisturbed by the racism that benefits some and terrorizes so many."

https://www.ncronline.org/print/news/opinion/assumptions-white-privilege-and-what-we-can-do-about-it
I wondered to some friends if anyone would be interested in some open yet difficult discussions on white privilege, sitting with the reality of these troubled times. Not for organizing urgent action yet, but just "being with" each other, heart to heart.
I had invoked the word heart (which comes from the Latin root coeur, which is the root word of courage). I invited community to share our own experiences, not to fix, save or advise but to accompany and witness each other's words and thoughts. And I had shared a quote about love. LOVE. There's that word again.
What the world needs now is "an invasion of divine love…"
It's worth watching both versions of What the World Needs Now, this one recorded by Ms. Warwick in 2019 (or at least posted on YouTube Mar 25, 2019). This video reveals some of the changes since her first recording 50 years ago. We are at least becoming more aware of what still needs to change since the Sixties — in policy and personally.
"But only an invasion of divine love will shatter the small images of God that enable us to live undisturbed by the racism that benefits some and terrorizes so many."
Love isn't the only thing we need, but we can't be part of positive change without love.
What has changed for you, or inside you, recently and over time? How are you sitting with the realities of racism these days?
(To be continued....)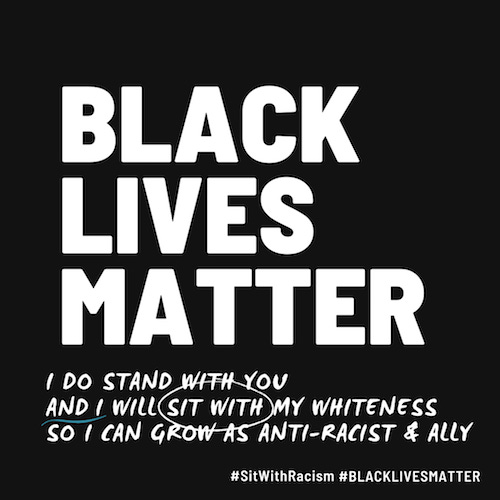 P.S. On Saturday, July 25 at noon ET / 10am MT, I have the honor of being on an Awakin Call hosted by @ServiceSpace. Our topic is: What does living courageously mean for you, and how do you cultivate personal courage? RSVP to get the link and details or listen to the recording afterward (and transcript) here: bit.ly/AWknSF