Stethoscopes for Everyone!
It takes courage to listen to our hearts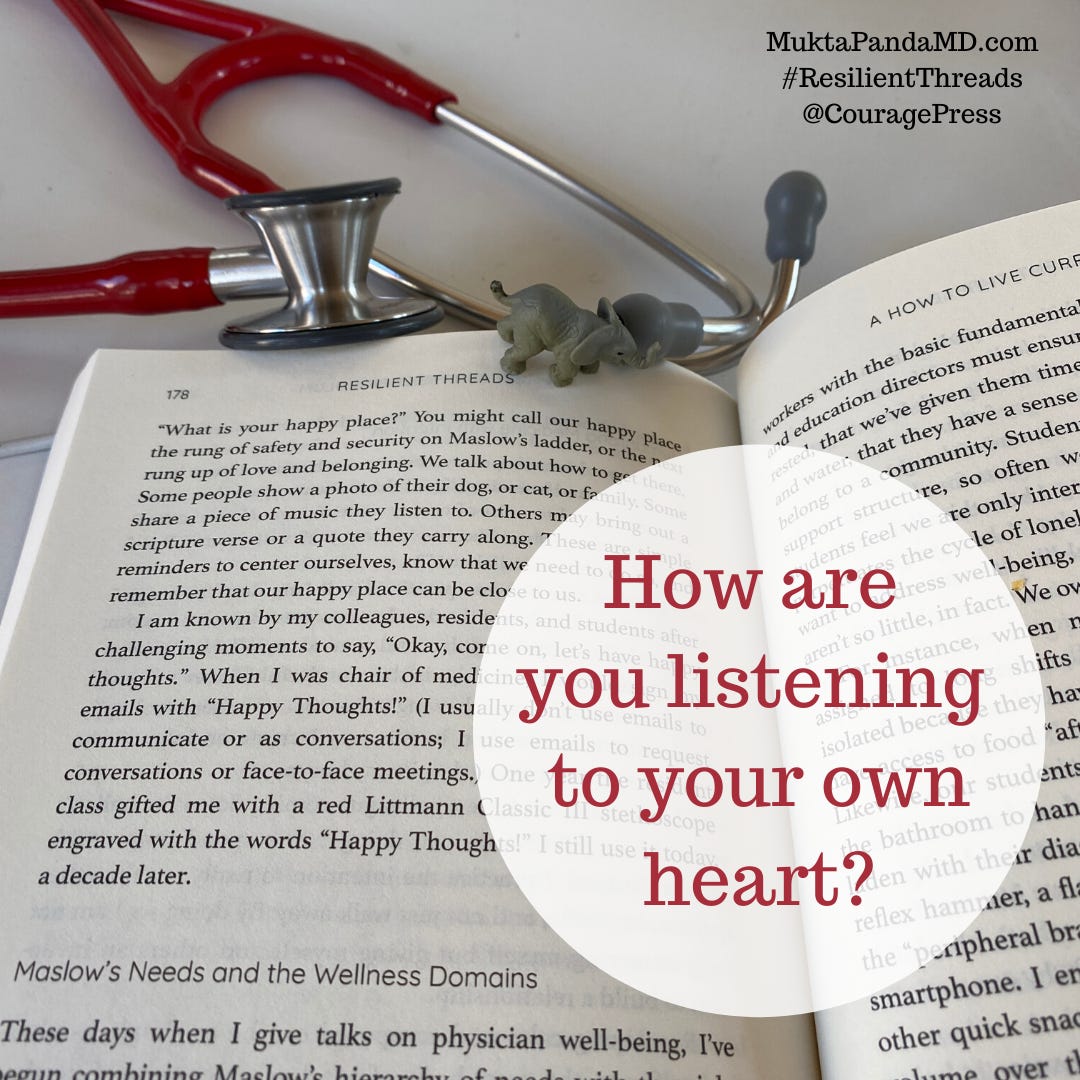 Today I am finally packing up Dr. Mukta Panda's stethoscope to mail back to her. I've had it since late December when we decided to change her book cover to a photo of her own 3M Littmann® Classic III stethoscope.  (She has a spare she's been using.) 
Mukta's red stethoscope was a meaningful gift one year from her resident class, engraved with the words "Happy Thoughts!" It's a phrase she is known for using to encourage her medical students and residents to find their inner encouragement. (Find that story on page 178 of Mukta's book Resilient Threads in chapter 17, A How to Live Curriculum.)
Have you ever listened to your own heart with a stethoscope? Have you ever listened to the hearts of your loved ones? 
I made time to do that this morning before wrapping it up. I asked my Mom and Dad if I could listen to their hearts. For some reason, it felt almost embarrassing to ask. And vulnerable to share. 
At first I couldn't hear a sound. I thought I had broken Mukta's stethoscope during all my photoshooting. Can you break a stethoscope? I don't see an "on" switch. What's the trick to using a stethoscope? 
Google is such a gift. I found out you can twist the tube to click "on" where it connects to the bell. That still didn't work. No cracks in the tube. Oh no! An FAQ image finally showed me, duh, that I had the ear buds pointing the wrong way. Ha! Sound!
I listened to my dad's heart first, and he listened to his own, too. Then he said mine sounded "strong." My mom started coughing after I listened to hers, and she to mine, so I listened to her back, like doctors and nurses do. It was just a throat tickle. There's no way I can tell if her lungs are clear. But it was somehow sweet to listen anyway.
Mukta once told me that traditional stethoscopes are at risk of becoming obsolete, replaced by electronic devices. There's something to be said for precision data. But nothing can replace the experience of gently touching a patient and eye-to-eye listening. The moment of listening is a ritual, not a tick off the checklist.
How often do you listen, really listen, to the hearts of others? And not just their ticker, but to their deep down heart of hearts. Soul-deep listening. Listening to passions, purpose, pain and joys. 

What questions might help you listen more deeply to your true self and others? 
Maybe try asking (of your true self and others), "How is your heart doing these days?" 
When facing burnout, grief, hard times, or times of transition (even happy changes), it's a form of self-care to consider reality from your heart's point of view. 
I vote for everyone having a stethoscope for use with family and friends, whether or not you work in medicine.  Listening to your heart is always good medicine. 
How are you listening to your own heart?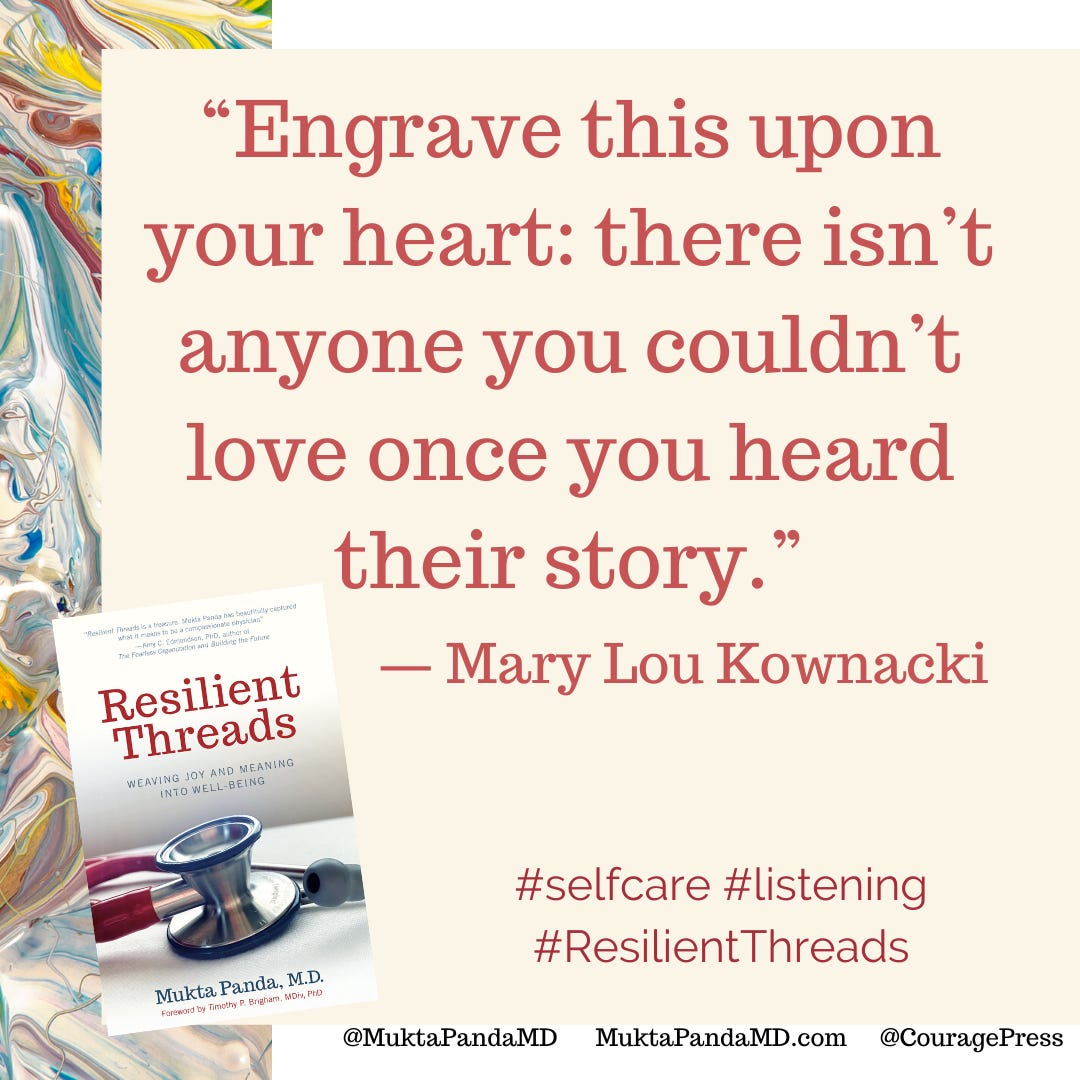 Check out the first book from Creative Courage Press: Resilient Threads: Weaving Joy and Meaning into Well-Being by a deep listener who is skilled at asking reflective questions of patients, friends, family and herself, Mukta Panda, M.D.
"Engrave this upon your heart: there isn't anyone you couldn't love once you heard their story."  ― Mary Lou Kownacki